That film stars look like their screen image is partly because of Malayalam mainstream cinema's realistic portrayal of life in Kerala, and its avoidance, on the whole, of the brashness and vulgarity associated with the Mumbai industry. These are also the qualities that make Malayalam films popular among families. Charming Shobana fits right into this world, kindling a responsive chord in the hearts of her audience. But Shobana has never allowed the judgment of others to sway her from her beliefs. Many awards have come her way, in both dance and cinema. In 1984 she won the Film Critics' as well as the Nana Gallipol Best New Face awards for her first film, 'April Padinettu' ('April 18th'), and, at the other end of her film career, the National Award for Best Actress for her role in the film 'Manichitra Thazhu' in 1993. Despite such heady success, she opted out of films soon afterwards when she felt (and many would not have agreed with her) that she was no longer 'young enough' for the roles she was doing. She is certainly not averse to acting again in films, provided the character she plays is of the requisite maturity and depth she now finds appropriate. She began as a child artist with Mangala Nayaki and recievd many awards for her films - Rareeram, Ayiram Kanugal, Innalae, Manichitra Thazhu,Thenmavin Kombathu, Sindhoora Rekha and Mazhay Ethumunbe. By 2002 she has three National awards, three Filmfare best actress awards to her credit and the prestigious Women of the Year award amongst others.
Her performance in that role - the dual role was unique in the sense that no separate costume was used to identify Ganga from Nagavalli - was superb. She has been doing a number of roles really different from usual ones that the mainstream cinemas give the female artists. Her latest memorable character was the one in Agnisakshi directed by Shyamaprasad. Shobhana had played a number of roles that Keralites would relish repeatedly. Such as those in Rangam and Kanamarayath by IV Sasi, Innale by Padmarajan, Sasneham by Satyan Anthikad, Tenmavin Kombath by Priyadarsan, Manivathurile Aayiram Sivarathrikal by Fazil, Ulladakkam and Mazhayethum Munpe by Kamal, Melepparambil Aanveedu by Rajasenan, Pakshe by Mohan, Yatra by Balu Mahendra, Mayamayooram by Sibi Malayil. In fact after Sarada and Sheela it is Shobhana who did more roles that imbibed the Malayalee ethos.Shobhana came to films as a child artist in Mangalanayaki in Tamil. Her first film In Malayalam was April 18 by Balachandramenon. She was just 14 when she became the heroine of that film.In Agnisakshi Shobhana did a period role of a Namboodiri woman that too 40 years of the character's life span from age 20 to 60. She with her movements and expressions excelled in that role. The costumes of the period added to her histrionics talents.She is not after roles any more but if she identifies a good script and a character she would readily agree to do it. She at present running her dance academy in Chennai and touring places to present dance recitals.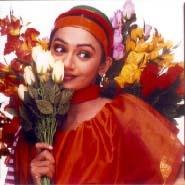 This career option was not a bolt out of the blue for Shobana. As in acting, so too in dance, Shobana did things early in life. Her formal training in Bharata Natyam began when she was a three-year-old. For the first two years she learnt under Guru K.J. Sarasa and thereafter came under the tutelage of Chitra Visweshwaran. She performed her arangetram in 1984 at Chennai. She has been teaching Bharata Natyam ever since she was seventeen.Though a Malayali by parentage, Shobana has always known Chennai as home. For a family entrenched in the arts and cinema (Shobana is the niece of the famous Padmini, Ragini and Lalitha, known as the Travancore sisters, who were renowned for their dance as well as screen careers), Chennai was the natural place to settle, as this was where all the activity of the south Indian film industry centred. But as the trend for more authenticity and local colour grew, shootings began to take place in the original regional settings, and therefore Shobana has spent 'about half my life' in Kerala. But right now its her role as a dancer that consumes most of her time. For her, to do selective films like Mitr is a very conscious decision. See, I cannot do all kinds of films as I have grown up, matured. I cannot run around trees anymore. Though wearing make up and strange costumes used to give me a high at one point of time, its not so anymore. I want to do something that makes life interesting. And that makes her take things easy, though she has received offers for Hindi and Malayalam projects lately.Thus, both as an actress who began her career on celluloid in 1979 (Mangalanayaki) and as a dancer, Shobana has done well for herself.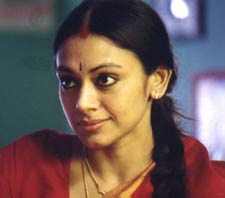 Mera Hindi bahut bura (My Hindi is pretty bad), admits Shobana. The actress with the classic Indian looks is speaking at a press conference for the launch of Mitr - My Friend and director Revathy, whos seated nearby stifles a laugh. But as the press meet continues, its easy to see why Revathy chose Shobana for her directorial debut. Revathy points out, Shobana is a very sensitive actress and she suited the role to the T. She was my first choice for the role of Lakshmi in Mitr. For Shobana, Mitr comes after a long sabbatical during which she had busied herself with her dance school Kalarpana for which she won a national award . On herself as an actress, Shobana says she depends on a lot of things - the directors communicative skills, a good script, the ambience. The danseuse-actress by now has a repertoire of over 225 movies (mostly from the South) and a Hindi music video Kabhie Kabhie with Amitabh Bachchan. To Hindi audiences, she remains the doe-eyed beauty in Mani Ratnams dubbed Dalapathy. Down South, her National award for her power-house performance as a split personality in Manichitra Thazhe made her a household name. I did try to do Hindi films, she says. But at that point, the roles that offered to me were mediocre. I didnt see any point in giving up quality South Indian films. Over the last few years, this niece of the Travancore sisters almost gave up on films until Mitr happened. After all, the tedium of her roles was getting to her. Ive had my share of horrible roles, she says. Almost every director wanted to capitalize on my dancing abilities. In one film I was supposed to be a lame girl. But I break into a dance in a dream-sequence, she laughs. Even when I was doing 20 films a year, I saw to it that I gave at least one dance performance a month. Now, I do an average of about 50 shows a year and tour a lot. Dancing cant really be called a lucrative profession, but it does earn me a decent living, she says.