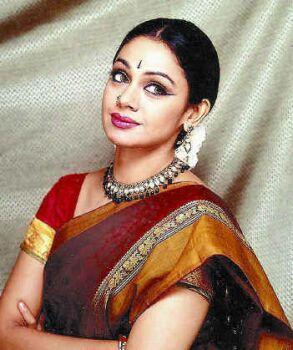 Real Name- Shobana Chandrakumar

DOB- March 21st

Parents- Late Shri Chandrakumar and Dr Anandam Chandrakumar
Aunts-Lalitha, Padmini and Ragini
Gurus for classical dance - Chitra Visweswaran, Dr Padma Subramaniam
Place of Birth- Kerala


Films done as on 31 Dec, 2002- more than 200 films in Tamil, Telugu, Malayalam and Hindi cinema.
Address:
Shobana
77/5, Gulmohar Avenue
Velacheri Road, Chennai 600 032.
Tel: 0-44-23513488.


Biblography-
Shobana was introduced to films by Hema Malinis mother, Jaya Chakravarthy, who spotted her with her aunt and one of the Travancore sisters, dancer-actress Padmini. Shobana is also an accomplished Bharatanatyam dancer who runs a dance school and has worked on collaborative ventures with the likes of tabla maestro Zakir Hussain, Vikku Vinayakram and Mandolin Srinivas.. Her recitals abroad include those at the World Malayalee convention, in the United States in 1985 and 1995, in Kuala Lumpur before the King and Queen of Malaysia, numerous cities in the United States, Europe, South East Asia and Australia.
Shobana has performed in several Music and Dance Festivals in India. She has had the distinction of inaugurating the dance and music season in Madras in 1992 at the Music Academy - the bastion of classical art. She has also performed at the nationally acclaimed Surya Festival in Trivandrum, Kerala in 1994, 1995, 1996 and 1997.As a Bhartanatyam dancer, Shobana is renowned for her fine dedication to the classical art form. She is known to possess an exquisite understanding of the Abhinaya, a clarity of line and a strong rhythmic command of the idiom.In 1994, Shobana founded Kalarpana with the objective of committing herself to the propagation of the classical arts. The aim of Kalarpana is to organize annual festivals throughout India. This will include performances of nationally and globally known artistes to help raise funds that will be ploughed back into training talented artistes who are financially insecure. Under its umbrella, Kalarpana would like to extend its support to the handicapped and the environmental movement. This work was initiated in 1994 by organizing a remarkably successfully evening of classical music and dance under the title of 'Bharatam'.
Favorite pastime- Dance, cinema and story writing
Kalarpana - "It is a small school, under a thatched hut, like I wanted it to be. I think this school is like the medical profession where you should build up your reputation, slowly. I teach only bharatanatyam, the only form I know. Ten years from now, I'll be older and it will then be quite difficult to differentiate between the three portfolios I hold", says Shobana
Shobana herself : She is a very practical person, with considerations of time, effort, money, space and not pretending to be idealistic. She has, perhaps, come to realise that everything is based on give and take, involving active interaction and not on dependence that lasts forever ideally.