TWICE NATIONAL Award winning actress, Bharatanatyam teacher, dancer-turned-choreographer, thinker, budding writer, (not to forget the show-stopping looks) multi-dimensional Shobana has been exploring unchartered territory in recent times. A home production, a film project with Pamela Rooks and a collaborative fusion venture titled, "Rhythmscapes," with tabla player and composer Bikram Ghosh in aid of the Banyan in July her plate is indeed full.
Says Bikram Ghosh, ``It is wonderful to work with Shobana, since, besides her obvious and recognised talents she has a wonderful knowledge of classical forms." "Rhythmscapes is derived from our roots classical, Carnatic and Hindustani. It is targeted at a younger audience and is my way of crossing a bridge. It's fusion and contemporary (its very spiced up, its got all the latest technology and has been mixed in Hollywood) but does not lack an element of spirituality.
"We will perform live with seven musicians and Taufeeq Quereshi. Shobana does the choreography (where she presents an interesting blend of forms with her students). We also do a couple of numbers where we mishmash each other's repertoire." Adds Shobana: "I have a flair for percussion and Taufeeq and Bikramji are basically percussionists. There is immediately a meeting ground there. We are also buddies so we can communicate. The music is also very quaint in a sense and there is a lot of scope for me to create a new idiom." About her home production she says, ``We have just got the funds and are in the pre-production stage of planning which is the most exciting part of making a film. What I can contribute to this project is my sense of script. I am guiding the way the script is shaping up. The progress is a little slow but it's a different kind of film. We are not making a film to be known as film makers but because we have the opportunity to do whatever we have in mind without any commercial pressure."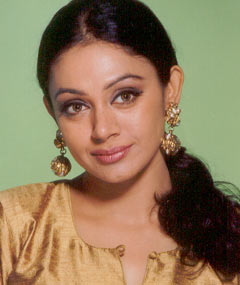 Thematically though the story is dated (its set in the 1930s) the drama and the message are extremely relevant to today's time, according to Shobana.
``This film is contextualised against three backdrops. One, the socio-cultural transition of that time, some of which affects us even today. Two, it's about a woman finding her own freedom and thirdly, the focus is on the great alluring art of that time known as sadir which was integrated with the lives of people across social strata and gave the Devadasi a special status as the auspicious woman in the temple. The Devadasi represents the pioneering efforts of the modern Indian woman who is constantly seeking her independent status in society. In this age she represents millions of women for whom the arts play a significant role in their evolution and spiritual freedom including me."
In Shobana's opinion "The greatness of Indian art and culture has seldom been dealt with as a subject of Indian cinema especially in relation to the strength of a woman."
What kind of a slot would the film fit into? ``The chosen subject is niche. Its neither mainstream formula nor is it the art kind of film. It will aim to be tight, eventful, gripping and visually aesthetic. The film will be in Tamil I don't see any other language which will bring this subject alive..." Right now she is not sure if she is starring in it.
"I don't really believe in making a script with me in mind. I am making a script with a stunning devadasi with a lot of spiritual qualities and sensuousness and intelligence in mind."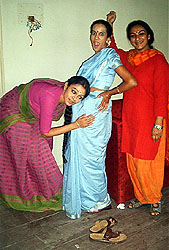 What about working with Pamela Rooks in ``Dance Like a Man"? ``Pamela Rooks is extremely creative, a wonderful person and very organised. Film-makers today are trying to make films that can fall in the new genre catering to an English film loving audience or they make art films. She has chosen a subject that I don't think many people would actually choose. Its about a regular middle-aged, artistic dancer couple. For her to attempt something like that shows her extreme sensitivity to the subject as she is from an entirely different cultural background... I've decided not to see the play because I am a great mimic and subconsciously I may imitate the artistes. I don't want that input at all." The film which is likely to hit the screens any time has ``wonderful" music by Ganesh-Kumaresh. About her own performance she says, ``I haven't seen it yet. I am kind of critical and it will all build into one baggage of guilt but I think I suited the role."
``Dance like a Man" is the only film she has done after ``Mitr" and she justifies this by saying." I am not really looking out for scripts. I am so bogged down by work (dance, teaching students at her dance school and choreographing). There is no energy at all. I barely get time to sleep." In the pipeline are films with Naseerudin Shah directed by Pankaj Parashar and another with Om Puri.
We hark back to her need to go beyond the boundaries of traditional dance form. "Most artistes feel a need to experiment. Even people who just do Bharatanatyam take up Marathi songs. Somebody else wants to dance to a thavil or a ghatam. You mean to say that the same sensuousness and communication cannot come from a Tamil piece. It's a change. Basically I am motivated by music. You may think, so what, everybody is motivated by music. For me music is the soul of my performance. If it's a regular Bharatanatyam show you can do it without too much of strain. When it comes to something off beat there is a lot of preparation. But you evolve so much from the experience. I feel I've become extremely sensitive to music working with all these artistes. You're feeding off each other's minds. But ultimately you would also like to go back to what you are trained for because you are the best in that."
She also thinks it's important to have a fix on the music and be on top of it "Though there is a music section separately you need to know every instrument to be able to guide and get the best from the musicians. That's why I learnt the mridangam and the flute."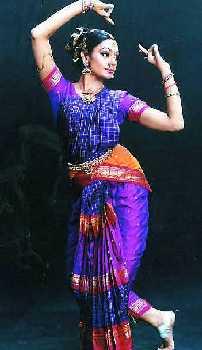 What is it that she likes about teaching dance?
"The urge to teach overwhelmed me when I was in the peak of my youth and very busy with both films and dance performances. That was a time when I was learning, imbibing, deconstructing and experimenting and I felt two things one that there is this whole world of young people out there who probably have my urge too to learn to experience the joy of being in a creative process and establishing an identity as an artiste, second that teaching could be a two-way street. I could teach and then evolve from the students' response. I was also at a stage when my style was entirely unformed. I had my guru's (Chitra Visvesvaran) style in me but I didn't want to be her clone or a bad imitation. I preferred to keep her thoughts and her mind, which is amazing, and see how I could contribute with those inputs. My style has come to embody its own understanding, still growing off the philosophies of dance as I see and experience it."
A thinking actress, Shobana spends a lot of time mulling over a variety of things and keying in her thoughts on her desktop.
"Once in a while I just reflect. I go crazy if I don't do it. All the time I am giving. Now I am suddenly going through a phase when I feel I haven't had enough of myself and haven't contributed enough to my own mind. What I can do for myself is reflect and come up with my own ideals and a little bit of philosophy. Now and then I withdraw and do just that."